Teeth Whitening - Deerfield Beach
Professional Teeth Whitening Near Me
Our office provides multiple in-office professional teeth whitening options. We only use the most advanced and highest rated technologies, currently Venus and Zoom!
Teeth whitening is one of the most common procedures in cosmetic dentistry, ideal for those who want dramatically whiter teeth with a minimal investment of time.
This extraordinary procedure takes about two hours from beginning to end and produces immediate results. Best of all, at Dentistry of South Florida, our process is simple and painless. During the procedure, your cosmetic dentist will apply a 25% hydrogen peroxide gel that is activated when exposed to the specially designed laser light.
Our patients report that there teeth typically become at least six to ten shades whiter, sometimes more!
To learn more about our in-office professional teeth whitening options and expected results, please contact our office.
Our office is located in Deerfield Beach and serves patients throughout South Florida including Boca Raton, Lighthouse Point, Pompano Beach, Fort Lauderdale, Coconut Creek, and Coral Springs. 
Teeth Whitening can provide several benefits, both aesthetic and psychological. Here are some of the advantages of teeth whitening:
Enhanced Appearance: Teeth whitening can significantly improve the color and brightness of your teeth, resulting in a more attractive smile. Whiter teeth can make you look younger and healthier, boost your self-confidence and overall appearance.
Increased self-Confidence: A brighter smile can enhance your self-esteem and confidence. When you feel good about your teeth, you may be more inclined to smile and engage in social interactions without feeling self-conscious.
Removal of Stains: Teeth whitening treatments can effectively remove stains caused by factors such as coffee, tea, red wine, tobacco, and certain foods. These extrinsic stains can accumulate over time and cause your teeth to appear yellow or discolored. Whitening treatments can help eliminate these stains, restoring a more natural and vibrant color to your teeth.
Reversal of Aging Effects: As we age, our teeth naturally become dull and discolored due to the gradual wearing down of the enamel and the accumulation of stains. Teeth whitening can reverse some of the effects of aging, make your smile look fresher and more youthful.
Non-Invasive and Quick Procedure: Teeth whitening is a non-invasive procedure that can be performed relatively quickly. Depending on the method chosen, it can be done at a dental office or even at home. This convenience makes teeth whitening an accessible option for many individuals seeking a brighter smile.
Positive First Impressions: A bright and healthy smile can leave a positive first impression on others. It can create a sense of warmth, friendliness, and good oral hygiene practices, which can be beneficial in both personal and professional interactions.
Motivation for Oral Hygiene: After teeth whitening, many individuals become more motivated to maintain good oral hygiene practices. This can include regular brushing, flossing, and dental check-ups, which are essential for overall oral health.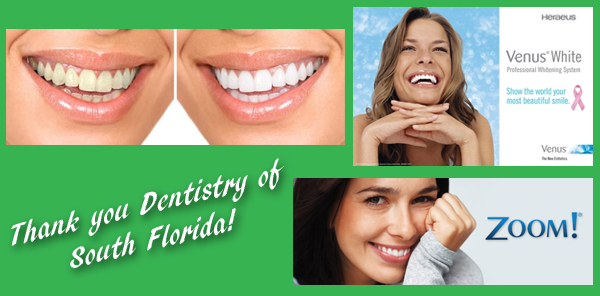 Meet Your Award Winning Dentists
The Proof is in Our Patients

I needed dental surgery while spending the winter in South Florida. I received excellent professional care from every member of the team. Surgeon was top notch. I healed quickly, without pain or complications. Highly recommend this practice.
Excellent service, the whole staff is so kind. They always greet you by name and are very flexible with appointment times for me. They even offer in house discount plans if you don't have insurance. I've been going here for years. Thank you!
Dentistry of South Florida is always a great experience! And I have been a client for over 15 years! The environment is happy and the staff is talented.Thank you Dr. Berkovich for the excellent care.
MOST INSURANCES WELCOME AND MAXIMIZED!
Contact us and schedule your visit today. 
Most Insurances Welcomed and Maximized
We'll make the process of paying for your dental care as simple as possible! Our office accepts a wide variety of insurance plans, and we're always happy to file your claim for you so that you can be sure to receive the maximum benefits available to you. Dentistry of South Florida will maximize benefits with Delta Dental, Cigna, Metlife, Aetna, Guardian, Ameritas, Principal, United Healthcare, United Concordia, Assurant, GEHA, Careington, Humana, TDA, BlueCross BlueShield and more! Call us today to find out how we can maximize your insurance plan!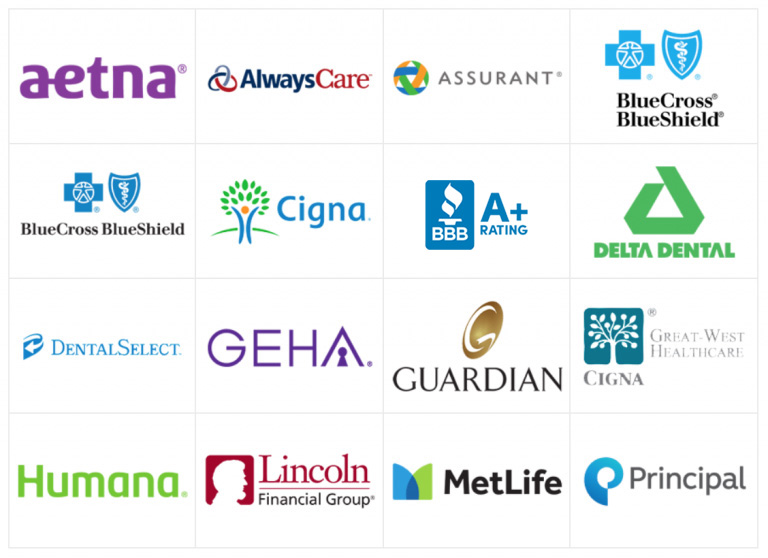 OUR LOCATION Dentistry of South Florida
| | |
| --- | --- |
| Monday | 7:00 AM – 4:00 PM |
| Tuesday | 8:00 AM – 8:00 PM |
| Wednesday | 12:00 PM – 8:00 PM |
| Thursday | 8:00 AM – 8:00 PM |
| Friday | 8:00 AM – 5:00 PM |
| Saturday | 8:00 AM – 4:00 PM |
| Sunday | CLOSED |
A Full Array of Cosmetic Dentistry, and General Dentistry Options.
Open Daily For Your Convenience!
A State-of-the-Art Dental Facility to Best Serve Our Patients in Deerfield Beach, FL.