General Dentist in Deerfield Beach, FL
Preventive Dental Care Near Me
Our dental team believes that the best possible care is preventive care by committing to a series of simple preventive steps that we will guide you through! With good oral hygiene and healthy eating habits, coupled with regularly scheduled exams, x-rays, and cleanings, you can be sure to maintain optimal dental health. Our main goal is to help keep your teeth healthy for life!
We want to make sure you have a smile that you are confident in and one that is going to last you as long as you live! Our team takes pride in knowing your teeth are healthy and that you are confident. If you are looking for a top-rated general dentist in Deerfield Beach, FL, give our office a call today and we will make sure you are seen right away!
Please read any of the following general dentistry services that we provide to learn more: 
General Services & Treatments:
Dental Exams
Dental Cleanings
Preventative Sealant
Fluoride Treatments
Dental Mouth Guards
Home Dental Care
Dental Exams
Having routine dental examinations from Dentistry of South Florida aids in the prevention, early detection and treatment of tooth decay, oral soft tissue disease, and periodontal disease.
Through visible inspection and dental x-rays, our dental team will be able to complete a comprehensive examination.
The frequency of routine general dental visits should be based on individual needs, with some patients needing to see the dentist more often than others. More frequent visits may be necessary for patients at increased risk for oral diseases due to age, pregnancy, tobacco and alcohol use, periodontal diseases, oral hygiene, and health conditions such as diabetes, dry mouth and HIV. Your dentist and your dental hygienist will determine how often you should have your teeth examined and cleaned.
A complete dental examination will include a soft tissue exam, a screening and examination for periodontal diseases, and a detailed charting of cavities, existing restorations (fillings and crowns), and other tooth conditions.
Dental x-rays may be a part of your routine dental visit and will assist the dentist in locating disease that cannot be seen by the eye, such as cavities that develop between teeth or bone loss that occurs beneath the gums. During examins, routine dental x-rays are a vital step in the discovery process. Dental x-rays allow our dentists to look at what is happening beneath the visible oral tissues, providing the ability to discover potential problems before painful symptoms arise. 
Dental Cleanings
Preventative Sealant
Fluoride Treatments
Dental Mouth Guards
Home Dental Care
Meet Your Award Winning Dentists
The Proof is in Our Patients

I needed dental surgery while spending the winter in South Florida. I received excellent professional care from every member of the team. Surgeon was top notch. I healed quickly, without pain or complications. Highly recommend this practice.
Excellent service, the whole staff is so kind. They always greet you by name and are very flexible with appointment times for me. They even offer in house discount plans if you don't have insurance. I've been going here for years. Thank you!
Dentistry of South Florida is always a great experience! And I have been a client for over 15 years! The environment is happy and the staff is talented.Thank you Dr. Berkovich for the excellent care.
MOST INSURANCES WELCOME AND MAXIMIZED!
Contact us and schedule your visit today. 
Most Insurances Welcomed and Maximized
We'll make the process of paying for your dental care as simple as possible! Our office accepts a wide variety of insurance plans, and we're always happy to file your claim for you so that you can be sure to receive the maximum benefits available to you. Dentistry of South Florida will maximize benefits with Delta Dental, Cigna, Metlife, Aetna, Guardian, Ameritas, Principal, United Healthcare, United Concordia, Assurant, GEHA, Careington, Humana, TDA, BlueCross BlueShield and more! Call us today to find out how we can maximize your insurance plan!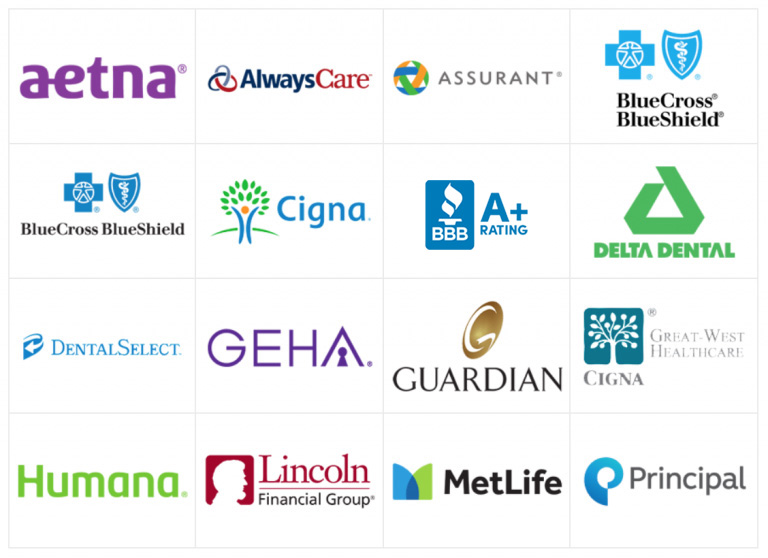 OUR LOCATION Dentistry of South Florida
| | |
| --- | --- |
| Monday | 7:00 AM – 4:00 PM |
| Tuesday | 8:00 AM – 8:00 PM |
| Wednesday | 12:00 PM – 8:00 PM |
| Thursday | 8:00 AM – 8:00 PM |
| Friday | 8:00 AM – 5:00 PM |
| Saturday | 8:00 AM – 4:00 PM |
| Sunday | CLOSED |
A Full Array of Cosmetic Dentistry, and General Dentistry Options.
Open Daily For Your Convenience!
A State-of-the-Art Dental Facility to Best Serve Our Patients in Deerfield Beach, FL.